Komfortables Telefonieren im Freisprechmodus überall in Haus und Garten
mit automatischen Rauchalarm-Anruf an Telefonliste

Das Telefon, das besonders wertvoll ist, wenn man nicht zu Hause ist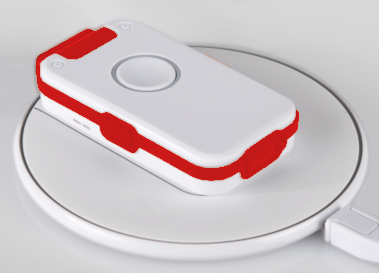 DA1421 DECT Minifon ist ein 40g-Amulette-Telefon mit Komfort-Freisprechen in DECT Qualität und einer zentralen Ruftaste. Das Minifon wird einfach an die hauseigene DECT-Anlage angemeldet.
Fertig
Das DECT MiniFon kann an jeder DECT Anlage betrieben werden, zB Gigaset, Philips, Panasonic, Speedport, Fritzbox,…..
Durch den integrierten Sprachassistenten wir die Bedienung zu einem Kinderspiel: Anrufe werden einfach per Knopfdruck angenommen; 10 ausgehende Rufe können gescrollt werden, wobei die eingetragenen Namen vorgelesen werden.
Rauchalarm. Das Problem ist bekannt. Wenn man nicht zu Hause ist, geht der Rauchalarm meist ins Leere. Die Folgen können verheerend sein.
Die Lösung: Das DECT MiniFon aktiviert automatisch seine integrierte Rauchalarmerkennung. Hierzu sind keinerlei Einstellungen notwendig. DA1421 erkennt den Rauchalarm aller am Markt befindlichen Rauchmelder, Hitzemelder und Kohlenmonoxid-Melder. Bei Rauchalarm wird eine Telefonliste, die vorher per PC APP festgelegt worden ist, angewählt. Eine tolle Erfindung, die erheblich zur Sicherheit Ihrer Wohnung bei Abwesenheit beiträgt.
Das DECT Minifon verfügt über eine große Ruftaste für Anrufe, zwei Seitentasten um die Lautstärke zu regeln, sowie zwei LED Anzeigen, die den Benutzer über den Betriebszustand des Gerätes informieren. Aufgeladen wird das MiniFon über eine formschöne Qi-Scheibe, einer kontaktlosen Ladevorrichtung – kein Problem mehr mit verschmutzten oder defekten Kontakten.
Back again : DECT MiniFon !
Comfort Telephony in hands-free mode anywhere indoor and garden
with automatic Smoke Alarm Call to your contact list
DA1421 the only DECT telephone which becomes valuable when you are not at home
The DA1421 is a new design of DECT amulet phone offering hands-free communication in DECT quality anywhere in and around the home. With a weight of 40 grams and a single central button, the DA1421 is compact and convenient.
DECT MiniFon is compliant to any DECT Base Station, e.g. Gigaset, Philips, Panasonic, Speedport, Fritzbox,…..
Thanks to the integrated Voice Assistant the handling of MiniFon becomes a child's play. Answer Incoming Calls by pressing the central button; select up to 10 Outgoing Calls by scrolling your preselected telephone numbers: the DA1421 Voice Assistant will read the names of selected number.
Smoke Alarm, a well-known problem. In most cases Smoke Alarms will be useless, if your are not at home… with possible disastrous consequences.
The solution: DA1421 automatically activates its integrated Smoke Alarm Detector. No setups and configuration necessary. The miniFon recognizes Smoke Alarm of any Smoke or Heat Detector as well as Carbon-Monoxide Detector in the market. Once DA1421 has identified Smoke Alarm, it will start dialing a predefined telephone list until the problem is solved. A premium innovation which significantly contributes to Security-at-Home.
DECT Minifon is equipped with one central call button, two side keys volume control and 2 LEDs to indicate call status and residual standby time. Its Li-Ion battery will be charged via magnetic Qi-charger plate in modern design – no more problems with defective contacts or wrong placing.