DA1421 DECT MiniFon with Smoke Alarm Call
Das Telefon, das besonders wertvoll ist, wenn man nicht zu Hause ist

DA1421 ist ein 40g-Amulette-Telefon mit Komfort-Freisprechen in DECT Qualität und einer zentralen Ruftaste.

DECT Minifon erkennt den Rauchalarm aller am Markt befindlichen Rauchmelder, Hitzemelder und Kohlenmonoxid-Melder. Bei Rauchalarm wird eine Telefonliste, die vorher per PC APP festgelegt worden ist, angewählt. Eine tolle Erfindung, die erheblich zur Sicherheit Ihrer Wohnung bei Abwesenheit beiträgt.
The only DECT phone which becomes valuable when you are not at home
The DA1421 is a new design of DECT amulet phone offering hands-free communication in DECT quality anywhere in and around the home. With a weight of 41 grams and a single central button, the DA1421 is compact and convenient.

DA1421 recognizes Smoke Alarms emitted by any Smoke, Heat, or Carbon-Monoxide Detector on the market. Once the miniFon has identified a Smoke Alarm, it will start dialling a predefined telephone list until the issue is addressed. A premium innovation which significantly contributes to Security-at-Home.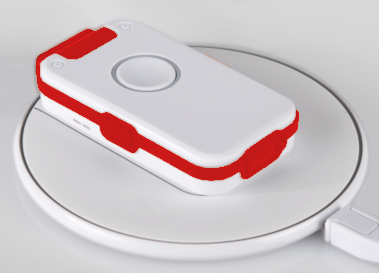 Application